The Reading Room (2011)
Multimedia installation, custom software, generated text
The Reading Room presents a scene of reading within a minor spectacle of reflected light. Reading lights both aid and overwhelm an encounter with mediated writing.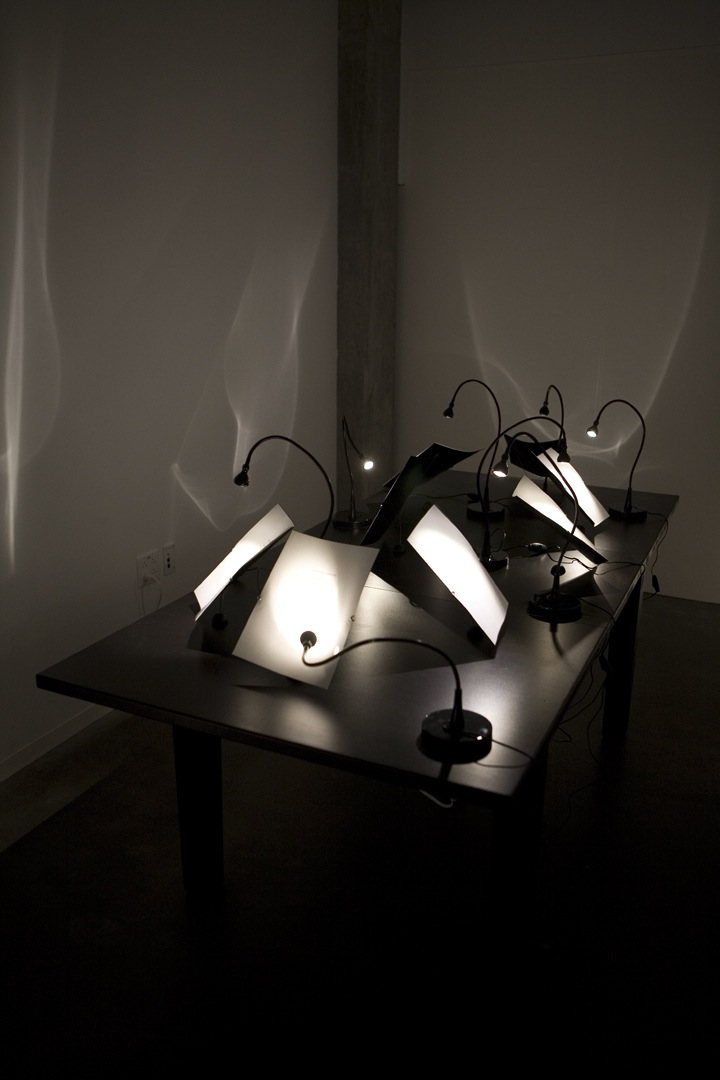 A small, relatively low-ceilinged, windowless gallery space contains a dining or work table. On the table are eight simple black LED reading lamps with long flexible necks. A number of other identical lamps are arranged in a little cluster and as a solitary lector in two corners of the room. The lamps provide the space's only light. The lamps are each trained on their own clear-covered document folder, holding the text of a computationally-generated poem. The folders are held before the reading lamps by wire armatures, just strong enough to carry their weight. The lamps have a markedly anthropomorphic aspect. They are reading. Because of the peculiar reflective properties of the documents' clear plastic covers under the LED lamps, there is an engaging display of reflected light on the walls of the gallery. There is room for visitors to move comfortably between the table and the walls.
The lights both aid and overwhelm an encounter with writing that is likely to be new to you. You may pause to read more carefully than the lights themselves, but you may not find any more to interpret in what you read than they do. You may prefer to read, or to behold, what the lights offer all at once, their dispositions and the projected reflections from their reading surfaces on the walls around you.
In low level audio, the precise source of which is difficult to determine, the viewer hears an endless reading of poems, their words strategically recombined, live, from the words within the poems on display. A Java applet (this takes some time to load) that will generate the audio for you may be invoked here.
The poems, displayed behind their clear document covers, are from a series entitled 'Monoclonal Microphone,' produced, in part, for the second, 'Digital Hamper' issue of the literary magazine 'Adjective Noun. The installed poems comprise twelve selected from over one hundred and fifty that were generated in order to allow the printing of unique instances in each of the paper copies of 'Digital Hamper.' You may read all of the generated poems here, where you will also find some explanation of the procedures used. These involve stochastic text generation constrained by automated searching of Google in deliberate contravention of its non-reciprocal and hierarchical 'terms of service.' If you are interested, please read this draft entry on 'Terms of Use' recently composed for a forthcoming Guide to Digital Textuality. Comments and feedback welcome.
The Reading Room was installed in room N341 of the Granoff Center for the Creative Arts as part of
pixilerations [v.8], Providence, RI, Sept 22-Oct 2, 2011
Photography by Mimi Cabell