Hapax Phaenomena (2012)
Clement Valla and John Cayley
.Zip Archive, 75.9 MB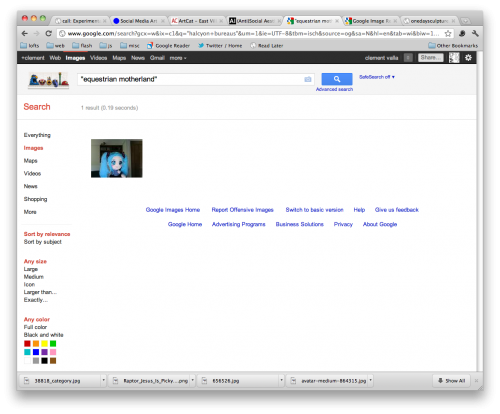 Hapax Phaenomena is a collection of historically unique images discovered by Google image search from collaborators Clement Valla and John Cayley. The fragile and tenuous Phaenomena are organized into subcategories within five folders; 1_discordant_wonderfulness; 2_nondurable_megabyte; 3_inventive_monetarism; 4_patriotic_leaseback; and 5_diatomic_roach. Each Phaenomena is accompanied by a certificate of authenticity, a screenshot of its moment of global and historical singularity taken by one of the artists.
Throughout Jan 2012 Hapax Phaenomena was made available through 'The Download' on Rhizome.org: http://rhizome.org/the-download/
The Phaenomena were also included in 'sys(x)tem' a group exhibition curated by Tal Sznicer at Splatterpool Artspace, Brooklyn, 13 Jan-5 Feb 2012.